Weekend Adventure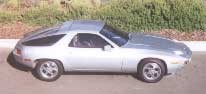 Larry S. Jackson's 1978 Porsche 928 was built in the first year of this model as serial no. 434 out of 1,083 sold in the U.S. from fall 1977-1978. The 928 was conceived as the successor to the popular 911. Porsche's new luxury sports car boasted numerous distinctions at the start of its career. At the British Motor Show in Birmingham it was awarded a gold medal by the Institute of British Carriage and Automobile Manufacturers which evaluated all sports cars under the categories of design, quality and comfort. The Porsche 928 was named "Car of the year 1978" by an international jury of journalists -- the first time a sports car ever received the honor in Europe.
This 928 is powered by a CIS fuel-injected 4474 cc. 230 h.p. V-8 water cooled aluminum engine in front with a transaxle to evenly balance the coupé. A redesigned chassis and alloy bodywork with aluminum doors, fenders and engine hood enables handling this 3400-pound car.
Features include plenty of leg room with comfortable front seats for extended rallies, two mini seats in the back that fold flat for more cargo space, and a 23-gallon fuel tank to reach the next gas station. The dashboard includes a tachometer red lining at 6100 RPM, speedometer pegged to 170 mph, trip odometer, the usual gauges and a diagnostic alerts panel. For added comfort this sought-after car includes cruise control, adjustable steering wheel and dashboard, stereo radio with retracting antenna, power windows and mirrors, a vacuum lock system, a detergent pump for the windshield washing system, a knob to adjust the headlights' focus while driving the car and air conditioning.
The Porsche 928's last year of production was 1995. Altogether 25,105 cars were sold in the U.S. with 57,998 worldwide over the 13-year span.
[Home Page] [Larry S. Jackson] [About Heidelberg Graphics] [Top of Page]