Other Information
The Birds of Bidwell Park: Enhanced Edition by Roger Lederer, PhD
Guide to 100 birds seen in Chico, California's, Bidwell Park with descriptive characteristics and color illustrations.

About the Author
Dr. Roger Lederer is Professor Emeritus of Biological Sciences at California State University, Chico, whose interests are ecology, science education, and ornithology. He has written The Trees of Bidwell Park, Field Biology and Ecology, Pacific Coast Bird Finder, Bird Finder, Birds of New England, Amazing Birds, Latin for Bird Lovers, and Beaks, Bones, and Bird Songs as well as thirty scientific publications. Dr. Lederer has taught ornithology and ecology, consulted for government and private agencies, and volunteered for environmental organizations and schools. He has presented hundreds of public presentations and through his website Ornithology.com been used as a resource by BBC, National Geographic, National Public Radio, the Guinness Book of World Records, Real Simple Magazine, and many other organizations. He was the first Endowed Professor of Environmental Literacy at CSU, Chico and served as Chair of the Department of Biological Sciences and Dean of the College of Natural Sciences. Dr. Lederer has traveled to and birdwatched in nearly 100 countries and served as lecturer on several cruise lines.
About the Illustrator
Dr. Carol Burr is Professor Emeritus of English at California State University, Chico, where she taught literature classes, created the Honors Program, served as Department Chair, and directed the Center for Multicultural and Gender Studies. She edited and published Unstill Lives: Women of Northern California, Feeling for Place, and coauthored Latin for Bird Lovers with Roger Lederer. She has worked in oil, watercolor, and charcoal. She drew the birds and symbols of The Birds in Bidwell Park and illustrated The Trees of Bidwell Park using pen and pencil.
About the Book
Unlike any other group of organisms, birds have official common English names and by custom, the names are capitalized. So we have the American Robin, Oak Titmouse, Northern Mockingbird, and Downy Woodpecker. The local jay is often mistakenly called a blue jay, but even though it is blue and is a jay, it is a Western Scrub Jay. The real Blue Jay lives mostly east of the Mississippi River. Author Roger Lederer and illustrator Carol Burr identify these characteristics for birdwatchers visiting Bidwell Park in Chico to observe over 100 species living there.
The second book in Lederer and Burr's Bidwell Park field guide series is The Trees of Bidwell Park.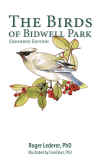 Stansbury Publishing is an imprint of Heidelberg Graphics