Book Reviews
California Standoff: Miners, Indians and Farmers at War 1850-1865 by Michele Shover
History of Northern California Indians conflicting with miners and farmers and Chico founder John Bidwell's role between them.

A richly informative investigation of a tragic episode. --Kirkus Reviews

Having taught California Indians and California Archaeology for many years, I have become acutely aware that pervasive perspectives on Native Americans are still based on the culturally static noble savage. Whether or not you like the story, Dr. Shover's thorough research has undermined that stale paradigm by revealing the Indian as a complex and politically active participant in History. We are fortunate to have this strong platform from which to evaluate our biases. Thank you. —Antoinette Martinez, PhD, Archaeologist and Professor, Department of Anthropology, California State University, Chico.

Michele Shover's fine, inquisitive, probing scholarship centered on Butte County foreshadows the epic battle of "gold v. grain" or miners v. farmers. —Robert Chandler in California History.

Over the last two decades Shover has worked with original sources in an attempt to tell a more nuanced story, analyzing "underlying causes, political issues, conflicts of interest, cultural assumptions. ..." The result is a magisterial work of scholarship that is also immensely readable. ... The story Shover tells is one of violence since there were no "effective institutions in place that protected … against abuses." Her study, giving all sides their due, breaks new ground. It is indispensable. —Dan Barnett, Chico Enterprise-Record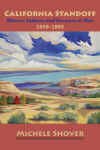 Order California Standoff: Miners, Indians and Farmers at War 1850-1865 by Michele Shover