Other Information
The Trees of Bidwell Park by Roger J. Lederer, PhD
Guide to trees seen in Chico, California's, Bidwell Park with identification characteristics, interesting facts, and color illustrations

About the Author
Dr. Roger Lederer is Professor Emeritus of Biological Sciences at California State University, Chico, whose interests are ecology, science education, and ornithology. He has written Field Biology and Ecology, Pacific Coast Bird Finder, Bird Finder, Birds of New England, Birds of Bidwell Park, Amazing Birds, Latin for Bird Lovers, Beaks, Bones, and Bird Song, and Art of the Bird, as well as thirty scientific publications. Dr. Lederer taught ornithology and ecology, consulted for government and private agencies, and volunteered for environmental organizations and schools. He has presented hundreds of public presentations and through his website Ornithology.com been used as a resource by BBC, National Geographic, National Public Radio, the Guinness Book of World Records, Real Simple Magazine, the Weather Channel, Canada Public Radio, and many other organizations. He was the first Endowed Professor of Environmental Literacy at CSU, Chico and served as Chair of the Department of Biological Sciences and Dean of the College of Natural Sciences. Dr. Lederer has traveled to over 100 countries and served as lecturer on several cruise lines.
About the Illustrator
Illustrator: Dr. Carol Burr is Professor Emerita of English at California State University, Chico, where she taught literature classes, developed the Women's Studies program and the University Honors Program, served as English Department Chair and Director of the Center for Multicultural and Gender Studies. She edited and published Unstill Lives: Women of Northern California and Feeling for Place and coauthored Latin for Bird Lovers. She is also an artist and has worked primarily in watercolor. She illustrated The Birds of Bidwell Park and The Trees of Bidwell Park using pen, colored pencils, watercolor, and acrylic. She is active in the community, serving in many local organizations such as the League of Women Voters, Soroptimist International, the Discovery Shoppe, and is one of the longest serving members (over 20 years) of Bidwell Park's Ambassadors program.
About the Book
Each page in the book describes some basic characteristics of a tree species in Bidwell Park and interesting facts about it. On the upper page is an illustration of a typical leaf and sometimes flower or fruit. On the lower page is an illustration of the tree's shape. In bold is an italicized footer pointing out something of particular interest. There are also simple keys to some of the larger families of trees. Importantly, individuals of one species of tree may vary widely in form. Age, sex, genetic variation, soil, water, and light all affect a tree's shape. A tree in a dark forest may appear very different than a lone tree in a bright opening.
This book complements Lederer and Burr's field guide, The Birds of Bidwell Park.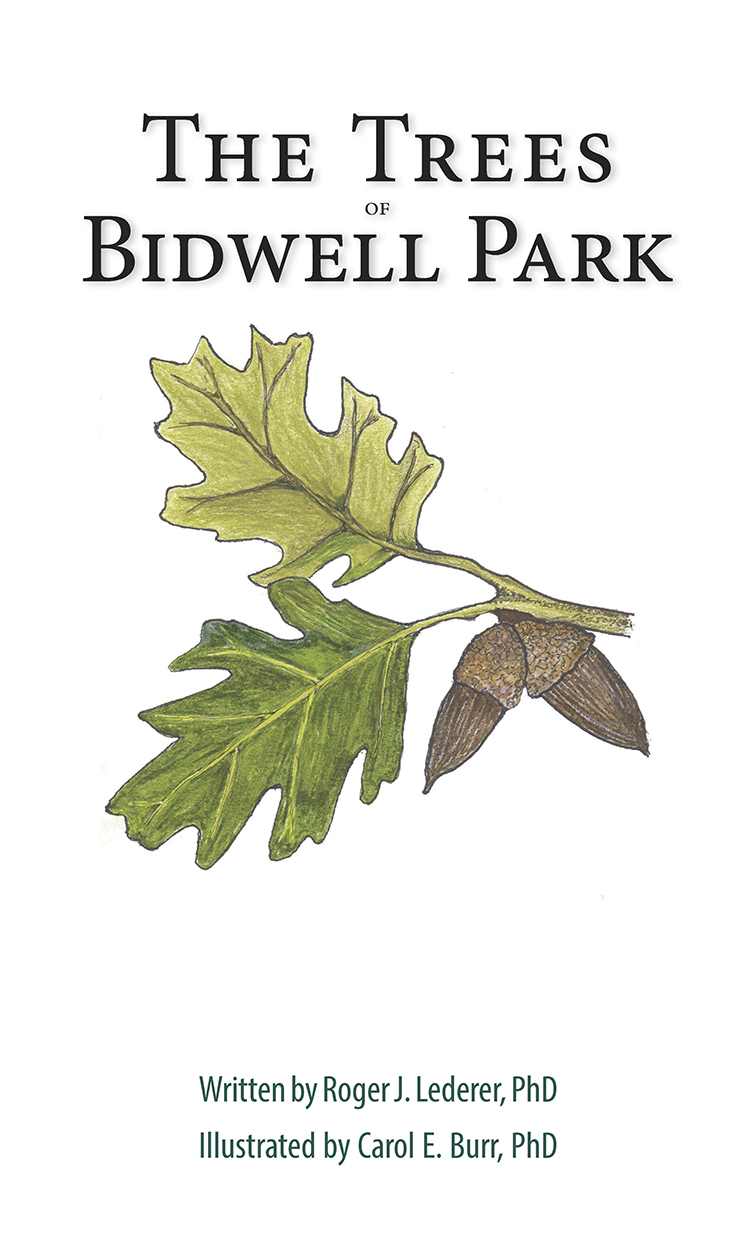 Stansbury Publishing is an imprint of Heidelberg Graphics